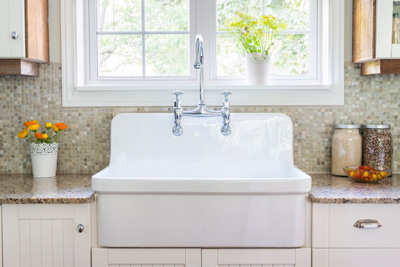 Finalizing all the details regarding your new kitchen upgrade is exciting and fun, but it can also be overwhelming. With so many options to choose from and things to consider, it's easy to become frustrated. Even a seemingly simple decision like deciding which material to use for your kitchen backsplash can get complicated quick. If, however, you've been wondering if marble is the way to go, you're in luck! Here are several important things to know about marble backsplashes before having them installed in your kitchen.
1. Marble Backsplashes are Stylish
If you want to make a statement with your new kitchen, then marble is certainly the way to go. Marble backsplashes combine natural beauty, interesting colors, and unique patterns to make your space stand out.
2. Marble Backsplashes are Extremely Durable
We put our kitchens through a lot, so it's important to consider the durability of the material you plan to install. Marble is an extremely durable material, so if you're hard on your kitchen it may be the best option. This makes it the perfect material for bathroom renovations as well.
3. Marble Requires Sealers
While marble boasts durability, it is porous and will require you or your contractor to apply sealers periodically. The sealer will help ensure your marble backsplash remains strain resistant and beautiful.
4. Marble is Susceptible to Scratching
One thing to keep in mind about marble backsplashes is that yours may be susceptible to scratching. This could be less of a concern because backsplashes rarely come in contact with sharp items, but it's worth noting before making your final decision.
5. Marble Backsplashes Can Last a Lifetime
When properly installed and cared for, a marble backsplash could easily last a lifetime. While the material is more expensive, you likely won't need to replace it again.
GEM Qualities Home Remodeling
Think a marble backsplash is right for you and your home? Gem Qualities Contractors and Services can help you decide on material and then install it for you. Take a look at our website to learn about the services we offer or call us at (206) 557–6509 to schedule a free consultation.
Installing Marble Backsplashes in Kitchens and Bathrooms
Serving the homeowners of Kirkland, Issaquah, Mercer Island,

 Redmond, Woodinville, Medina and Clyde Hill since 1995