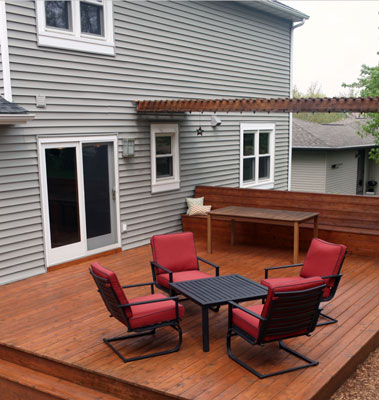 Deciding whether wood or composite decking is best for your home depends what you want to achieve with a deck. Is curb appeal your number one goal, or are you more concerned about durability?
Composite Decking
If low maintenance is your main concern, composite decking appeals to homeowners for its lack of need for staining, refinishing or sanding. Made from a combination of wood particles and one of several types of plastic, an occasional scrub with soapy water will keep it looking great for a long time.
Wood Decking
If aesthetics and/or cost is your primary goal, you may decide to use one of several types of wood instead of composite. Though most composite decking is designed to mimic the look and texture of wood, there's an authentic feel to real wood that just can't be replicated. While most varieties of wood will be less expensive than composite decking, don't overlook future costs of routine upkeep such as annual staining, and board replacement over time.
Lessening Wood Decking Failure
One way to get the organic beauty of wood with somewhat lower maintenance is to use deck boards with grooves mortised into their underside. This can dramatically reduce cupping and warping, and is recommended for high humidity environments like the Pacific Northwest.
Carefully Select a Deck Contractor
For experienced custom deck and fence construction in Bellevue and the Eastside, give Gem Qualities Remodeling a call. With multiple composite and wood decking materials to choose from, we can help you select what best meets your needs and budget. Gem Qualities also provides expert kitchen, bathroom and other remodeling services.
Professional Deck & Fence Construction
in Bellevue & the Eastside
Serving the homeowners of Kirkland, Issaquah, Mercer Island,
Redmond, Woodinville, Medina, and Clyde Hill since 1995